I'm Cuddy Cudworth
The UK's leading mind management coach.
Change your thoughts, Change your life.
What is a Monkey Mind?
It comes from Buddhism and it means to be unsettled or restless in your thoughts, something that conditions such as anxiety and depression definitely cause. 
By working with a Mind Management Coach, you can gain clarity over your thought process and achieve a clearer mindset. In the end, this leads to you regaining control over your life and emotional state. 
Goal Setting
Gain clarity over your thought process and achieve a clearer mindset.
Overcoming Anxiety
Overcome your past and work towards ousting those anxious and negative thoughts.
Stress Management
With a change to your mindset, you can become calm and controlled and take back your life. 
Career Advice
Discover and unlock the things that are stopping you get where you want to be.
What Is Mind Management?
Mind management is the process of gaining control over your thoughts and emotions.
It involves learning how to manage your mindset and thought process so that you can achieve a clearer state of mind.
This can lead to you regaining control over your life and achieving your goals.
Who Is It For?
Mind management is for individuals who want to gain better control over their thoughts and emotions.
If you are struggling with anxiety, stress, or depression, mind management coaching can help you regain clarity and achieve a better state of mind.
With guidance and support, you can learn how to manage your thoughts more effectively and stay on track with your goals.
What is The Process Like?
The process of working with a Mind Management Coach is one that can provide great clarity over your thought process.
We will work together to explore how your actions are caused by your thoughts – thoughts that aren't real and have no control over who you are.
Together, you will learn how to get rid of your Monkey Mind and prevent it from controlling you.
Cognitive Behavioural Therapy
CBT is based on the notion that your thoughts, feelings, physical sensations, and actions are all interconnected. As a result, negative thoughts and feelings can trap you in a vicious cycle. 
Rational Emotional Behavioural Therapy
REBT is to help you deal with overwhelming emotions and problems in a positive manner by breaking them down into smaller chunks. You are shown how to change these negative thought patterns in order to improve the way you feel. 
Overcoming Limiting Beliefs
These limiting beliefs negatively impact our lives and stop us from living the way in which we want to. But it is possible to overcome this and create new habits and outcomes that are positive and can help you to eliminate self-doubt.
Neuro-Linguistic Programming
The primary goals of NLP are to help those undergoing it to understand that the way you view the world impacts how you function within it. As a result, it is important to change thought and behaviour patterns that have not been beneficial in the past.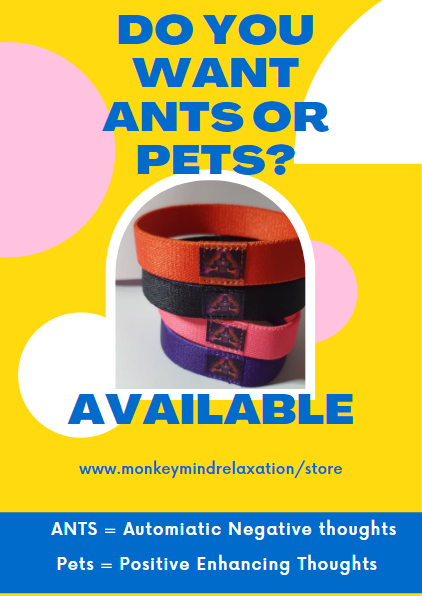 Do you want ANTS or PETS?
Anxiety snap bands can help you stay focussed and motivated when you feel anxious. They are a great way to keep yourself on track and can help you to stay calm and in control.
Get ready to squash those ANTS and replace them with PETS!
Available in a varietyof colours while stocks last.
Do you want ANTS or PETS?
Anxiety snap bands can help you stay focussed and motivated when you feel anxious. They are a great way to keep yourself on track and can help you to stay calm and in control.
Get ready to squash those ANTS and replace them with PETS!
Available in a varietyof colours while stocks last.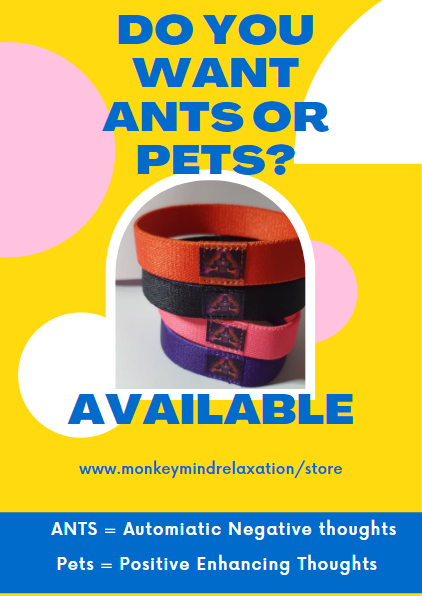 3 Session Package
Perfect if you already know what you want to overcome, and you want a quick push in the right direction to get the results.
5 Session Package
This is the most popular package. Dive deep on mental blocks, uncover the root cause and improve your life forever! 
12 Session Package
An intensive 4-month plan with regular one to one catch ups to help and guide to live the life you're stopping yourself from living.
About Me
As the UK's leading Mind Management Coach, I help you take control of your negative and anxious thoughts as well as help you manage depression and anxiety.
I help Successful people Unlock their fears to become more empowered and successful. With a change to your mindset, you can become calm and controlled and take back your life.
With my help, you can stop overthinking and start caring less about what others think of you. 
Mental health is close to my heart, and helping people overcome their struggles has been a central focus of my life and career.
For the last eight years, I have studied numerous areas in limiting beliefs, and negative thinking, as well as meditation and mindfulness. All of this is what helped me to create Monkey Mind Relaxation. 
"It's a hard thing to admit you need help. Your close friends can talk things through with you, comment, be helpful, but they don't have the techniques that professionals have to help you move forward. Cuddy totally has my back. Just when you don't think you have much else to add or say he simply reassures you, makes you feel relaxed and you find yourself realising you have so much more to say. I look after my Mum with Mixed Dementia. I'm not coping very well. I am trying to run a business too. I cannot thank Cuddy and his genius insight to help me get my head sorted. I have work to do but he single handily made me realise how I CAN improve my little world. He is quite simply brilliant!"
Hilary
Entertainer & Manager / London
"Do not suffer in silence….. I am finding it difficult to put into words how grateful and relieved I am to have found monkey mind relaxation. Cuddy has picked me up from rock bottom and given me the strength to put me back on my feet and face the future with a whole new perspective, instilling confidence, excitement and most of all a smile on my face. Cuddy's expertise and approach has worked miracles for me. His personal experience and understanding allowed me to realise I wasn't alone and delivered his programme to perfection with his robustness, sometimes no nonsense approach (when he knew I needed it!) but most of all his friendliness and continual support. I continue to practice the valuable techniques and lessons from the programme and they are all having a positive impact on every aspect of my life, business, personal and especially family life."
Gareth, 44
Company Director & Father / Alpha Plus
"The last two years have been difficult for me and I struggled with Anxiety and Depression, so much with the things that struck me down hard, I had struggled with not having life purpose and meaning of life. Cuddy helped me with his special way of connecting, he uses his individual approach and asks really good questions which sometimes WOW me – how the hell he nailed it like that!!? 🙂 What I liked the most about our sessions is that he breaks things down and makes you work on yourself, gives tools that YOU realize things on your own, YOU put effort and YOU see change on yourself. I strongly recommend this warm, friendly gentleman to guide you through your challenges. Zorana, Croatia."
Zorana
Croatia
"Back in March, I joined up to the positive Mindset course.  Having suffered with anxiety, panic attacks, depression etc for 20+ years something had to change.  I'd tried other therapists/therapy in the past but to no avail, then I crossed paths with Cuddy and it was the best thing that could of happened. The initial course got me on the right track where I was beginning to make progress, so much so I decided to upgrade to the next package. Cuddy has a way of connecting with you and breaking down the mechanics of the monkey mind into a language you can identify with.    I loved working one to one with Cuddy, at no time did I feel silly or ashamed.  He is non judgemental and puts you totally at ease in a warm and friendly, yet Professional manner.  Cuddy gently probes and helps you to breakdown and challenge those negative, sometimes intrusive thoughts.  As a result, I am more self aware now, I have tools to help myself and slowly but surely I'm going in the right direction.   If you are struggling,  I cannot recommend this course or Cuddy enough, if you really want to make those changes, just go for it, I did! "
Tracie
Personal Assistant / Southampton
"To say that Cuddy and Monkey Mind Relaxation Coaching helped me is an understatement. Cuddy's natural ability to see the path to make your life better is a gift. He lifts the veil of self criticism, self loathing and self confidence that you are struggling with and sets you on the path of loving and believing in yourself, with helpful tools to use in everyday life. Cuddy uses his own life tools and his unwavering kindness to guide you through your darkness and embrace the life you deserve to lead. I wouldn't hesitate to recommend Cuddy to anyone who wants to change their mindset to make their own life the best it can possibly be x"
Tracey
Entertainer / London
" Thank you for your time energy and positivity. It has been a couple of weeks since i took part on the course. Thanks to my fellow partners on the Course too for their Honesty and Openness in finding our ways through. Cuddy is a Very Honest, knowledgeable, patient, down ro earth Caring Gentleman with Bags full of Enthusiasm, and a Beautiful nature. I am still very much a work in progress but seeds have been planted and are growing. I have No hesitation in recommending him to anyone who is troubled by " life Stuff". Dont keep it all inside!!!! "
Paul
Salesman / Leeds
" I would highly recommend taking Cuddy's positive mindset course. I have struggled with Anger and anxiety issues my whole life. With his course you will learn the tools to help you live a better life. I now smile more, sleep better and am able to turn my day around when my Monkey Mind tries to take over. My wife is happy also !!"
Shawn
musician / Royal Caribbean
" I've not long finished the positive mindset course run by Cuddy Cudworth. I was a bit unsure at first as I'd never really done anything like that before and it would be fair to say I was a little sceptical. I needn't have been. The course was informative, fun and it got me talking about things that perhaps I hadn't focused on before. When I took a step back and "snapped the band", I was able to do so with a newfound clarity of thought. Get in touch with Cuddy and take control of your monkey! ?? "
Ross James mcknight
Entertainer / Glasgow
" Having suffered for so long with anxiety & depression and the havoc it wreaks on me both mentally and emotionally, I'd reached a point where I knew I had to do something.   I'd seen Cuddy's class before whilst on a cruise and the way in which he explained the antics of the Monkey Mind, he could of been talking about me!   I decided to book the 4 week positive mindset course with Cuddy and it was the best decision I had made in a long time.   I was extremely nervous as I don't like to step out of my comfort zone but I needn't have worried.  Cuddy is warm, friendly and speaks from experience, which I particularly liked. He is also extremely good at breaking things down and helping you to challenge and look at things in a different way.    Since the course, I am a lot more aware of my thought processes and "catching the pendulum".   I have been putting into practice some of the techniques we discussed and I am slowly beginning to think differently and I'm liking how that makes me feel.    I'm actually quite proud of myself for taking the step I did and I would recommend this course for anyone that is struggling, you honestly won't regret it.  Huge thanks to you Cuddy. "
Tracie
Personal Assistant / Southampton
" I really enjoyed my time using Cuddy's Knowledge, my thoughts were completely overwhelming and stretching in so many different directions and with so many wrong answers in my head.   I left feeling reassured that there was no evidence as to why I would think I wasn't good enough for any part of my life when in fact that wasn't true and it was just my thoughts and anxiety.     Cuddy asked some really good questions that would allow me to rethink how I was seeing things and also helped me realise that talking is definitely a great tool.   Thank you so much, everything is still going really well, I am taking time for me, trying my best not to work too much and know now that I don't need to do everything. "
Leanne
Operations Manager / Glasgow
" The positive mindset course is a must for everyone who wants or needs to develop a more positive optimistic outlook on life. You will learn many tips and strategies that will help you overcome or at least address some of the problems or difficulties that are presently in your life. Cuddy the host is approachable and NON judgemental. The sessions are fun. "
Patricia
Teacher / London
" I took away a better understanding of the overriding control the emotional mind has on us & the tools to be able to keep a check on it, I wish I could have discovered this many years ago,  rather than struggling through until now. I am able to enjoy the positives so much more now, still have huff n puff, but not allow it go on all day. As I said,  I have a disabled wife who has been shielding on/off for a year now, the last thing she needs is me coming home & ranting all night. My purpose is to bring joy to her limited lifestyle. "
Brian
Kitchen Designer / Isle of Wight
"I have tried to not to have expectations of others only myself, however still trying to please others and wanting to see others happy thinking it would make me feel happy as well. Trying to get someone to seek help and support for their mental health and well being hasn't helped them or my mental health or well being, as they don't think they have problems. I had become unhappy and I would often say I would get some help and support for myself, where do you go I thought? Anyway on the monkey mind group Cuddy put up an advert for the mindset coaching course. I completed the course for Jan 2021, all via zoom. So glad I did, it has helped me to like me and not to feel guilty when saying no, focus on positive things, not to be judgemental. I now feel in control of my own future happiness, Cuddy has given me the tools on how to do this. Setting goals, getting out of my comfort zone are some of the things I need to do to get my true happiness. Having a one to one session was excellent. "
Zoe
Stoma Care Nurse / NHS
"Approaching a significant time in my life where difficult decisions were to be made, my lack of self-confidence and previously diagnosed anxiety were stifling my ability to rationalise my thinking in making important decisions. Appreciating the need to understand the workings of my own mind and 'clear the clouds' I approached Cuddy having taken part in his Monkey Mind Meditation sessions for several months. I made the decision to enrol in the Positive Mindset Coaching Course and it's probably one of the best decisions I made. The four-week programme was excellent, the content was detailed but easy to understand and delivered perfectly to the small mixed group attending online. The course has provided me with clarity, peace of mind and a far greater ability to deal with the questions I have to ask myself. It's allowed me the opportunity to look at myself, my behaviours and better understand why we make the decisions in life we do. If you're suffering a lack of self-confidence, negative thoughts or anything that's clouding your judgement or behaviour I would certainly consider enrolling yourself on this four-week course. I started week one with four strangers and finished week four with four good friends."
Anthony
Police detective / Police Force
"After Struggling with overthinking and irrational thoughts which has caused me sleepless nights for nearly 5 years I eventually found help…… First of all, I just want to say a huge thank you to Cuddy for all his help in making me become the best version of myself. After only 3 sessions I feel so much happier and free from all my anxious thoughts. I didn't think it was possible to feel this happy again but speaking with cuddy really changed my way of thinking. I feel more confident which really helped with a job interview which i was successful in.  I cannot recommend him enough. I cant thank you enough! I now don't have to suffer anymore! What a relief and my smile is most genuine its ever been!!!!!   Marnie, Fife, Mother "
Marnie
Mother / Fife
"Going into the session with Cuddy I was a bit hesitant as I have previously had counselling / therapy and it made me very uneasy. However, Cuddy lead the conversation by asking just the right questions and from there I couldn't stop talking. I cried a little and felt a massive relief flood over me when talking through things that seem too silly to talk to others about. Once I was done talking Cuddy helped me put a plan into action on how I can tackle those behaviours and make changes to them from negative into positive ones. The Whole session with Cuddy and I only needed one was a really great and positive experience and now I use what I learnt with Cuddy everyday and this has led to me landing a great new job and feeling more comfortable with who I am and my self-confidence is where I want it to be!. Cuddy is very skilled at what he does, and I would highly recommend him and Monkey Mind Coaching to all my friends and family."
Gemma
Digital Marketing / Dundee
"I knew a little bit about CBT before I started working with Cuddy. I also had some ideas about what I wanted to work on and what I was struggling with. Our conversations really helped me to get a different perspective on things and to identify the unhelpful thoughts I was having. Cuddy didn't give me the answers but by talking and exploring I was able to find these for myself. I realised I could apply what I was doing successfully in other areas of my life. Cuddy gave me ideas and strategies to use to enable change to start happening. I was amazed at how quickly he was able to make sense of what I was saying and identify what the issues for me really were. By really getting to the bottom of what was going on, I was able to work out solutions that were far more likely to work. At the end of each session I felt positive and optimistic and ready to try out my strategies. I can now see superficial difficulties as just that and not as some fundamental problem that is insurmountable. I no longer feel overwhelmed as I have the skills and strategies to face the things that I find difficult. As a result of our sessions I now feel so much lighter, happier and at ease."
Helena
Social Worker / Balckpool
"There are not enough words to thank you for how much you have changed my life through controlling my thought process and how I react to everyday challenges.
I couldn't believe in 4 sessions with you, how it stopped me feeling enabled to have to be there for everyone else and that you gave me the tools on how to cope.
        Your analogy of being like a Jenga puzzle really hit home to me. I was letting people take a piece of me at a time until my Jenga puzzle collapsed.
I now stop and think about letting pieces of my puzzle be taken from me because of the consequences to myself.
              So I now feel empowered, in control both mentally and physically. So thank you to Monkey Mind Relaxation and to you Cuddy. I cannot give enough praise and encouragement to how the sessions changed my outlook on life.
              I highly recommend anyone having problems to reach out and learn how to move forward with investing in yourself and the help of Cuddy Cudworth."
Vicki
Nurse / Australia Health Sector
"Thank you – Cuddy for introducing me to techniques for letting go of the past (focussing on my daughter), reducing my mind set that can make an everyday issue a catastrophe when it isn't, focussing on a 1 % improvement is actually ok and that chasing perfection is just reducing my happiness and above all being kinder to myself and  my immediate family unit will make a happier and nicer person. I'm not where I want to be all of the time, but you have helped me to appreciate that it's ok to be like that… small improvements are the key"     Mike, Charity Event Organizer, Northumberland, England. —   Thanks for all your help…   Mike "
Mike
Charity Event Management Organizer
"Prior to having discussion with Cuddy Cudworth, I struggled with lack of self belief, but a lot of the emotions I struggled with from beliefs that I had learnt as a child and Cuddy helped me develop ways of thinking and ultimately belief within myself. This time has helped me re-evaluate and move forward in a positive way that will help with whatever the future throughs at me. It's always good to allow yourself time to stop and reflect, remembering every day is a school day whatever our age, there is always something new to add to your toolbox of life skills. Sometimes we just need to keep perspective, but mindful that life can feel quite overwhelming at times but by speaking to Cuddy you are pressing the reset button. Cuddy takes a very straight forward but professional approach which I would recommend. We all need a bit of help at times and by allowing yourself to admit this it's the first step to improving your situation but with Cuddy's help you will get there in a controlled way. "
Louise, Northumberland, UK
Nurse / NHS
"Before working with Cuddy I was nervous and anxious as I hated talking and meeting new people. After just the first session I was starting to feel the benefits and starting to feel the positives for the future. The four sessions I had was a big success and I can't believe the progress we made. Before my sessions I really struggled to control my anxiety especially social anxiety. I'd panic when having to answer the phone, going into the shop or generally just meeting new people. It made my heart race, give me a sore head, shakes and sheer panic. I found it extremely hard to accept past events in my life which I once thought was near impossible to talk about until I started working with Cuddy and feeling so relieved being able to talk about these. I'm very happy with how the sessions went and couldn't have asked for a better more understanding coach. Cuddy Cudworth really found the root of all issues and gave me some incredible coping strategies which I'll add, I still use today and would be lost and back to square one without them. My daily day to day life is so much calmer and relaxed. I now know how to work through all negative thoughts and how to challenge the odd anxious feeling. I'm always smiling and looking for the positive in every situation. My confidence has went from rock bottom to sky high and I have no one to thank apart from Cuddy. He truly is amazing at what he does and I would recommend anyone who needs the extra support to get in contact."
Chelsea, 18
Northern Ireland
"Hi Cuddy, I would like to thank you for introducing me to the concept and practice of Money Mind Relaxation on the recent cruise to the US. As someone who has grappled with the challenges of PTSD for many years, my monkey was never short of topics to discuss, and often at inopportune moments.
As part of my healing journey I conducted research into PTSD and ultimately wrote a book about it, which helped me and many others understand the causes and symptoms of the condition.
However, it was only after listening to your talks and practicing the monkey mind techniques that I got to the realisation that I was allowing negative thoughts to invade and control my life, and I have the power to change this.
Since getting home after the cruise, mind relaxation and meditation has become a part of my daily routine before going to work. I have not only noticed significant changes within myself, but also in how others perceive me. I feel like I have found the missing piece of a puzzle and look forward to the next stage of my journey with renewed enthusiasm. Thank you."
Clive Holt
Ex Military / Perth, Austrailia
"Monkey mind well what can I say? I got introduced to this concept on my last cruise September 26th. I did 3 out of the 4 seminars that Cuddy put on during the voyage. In myself my monkey mind was saying this won't work don't be stupid but from the very 1st minute that Cuddy start to speak I had a massive grin on my face and turned to my wife and said that's me.
Once the mediation started things changed my mind was clear thoughts were positive. But then my monkey mind was saying it's the deluxe drinks package making you feel like that. So now we have been home a few weeks and I try to do at least 45 mins to an hour a week meditation.
My immediate family noticed I was as stressed I was more patient and most of all nicer to be around. Now for the in-laws they have commented on how chilled I am and relaxed . But the biggest test was my sister who before we went away rang me to see if I was okay because during her last visit she said I was looking very stressed and agitated. I have seen her for the first time since my cruise and she said my god you look better what's happened.
My reply was no one is stealing my sausage anymore Thanks Cuddy Cudworth"
Keith Endecott - Jones
"My 14 year-old son struggling at school and home with anger issues and finding himself easily led and too frequently influenced by others I knew I needed to consider external support. My son and I participated in several Monkey Mind relaxation sessions and both finding these beneficial we spoke about CBT as further support.A period of CBT was arranged and despite his initial apprehension my son found Cuddy engaging, friendly and approachable. He looked forward to his weekly appointment and the positivity he displayed following his chat was noticeable.In a relatively short period of time my son has learnt to appreciate the trigger points that cause his aggressive outbursts as well as his worries and his concerns. He understands he's to work at overcoming the situations in which he finds himself but he know has the tools to help with this. In Cuddy he also has a professional and more importantly a friend he can turn to if needed. I would have no hesitation in turning to Cuddy for support myself or entrusting him to help those I care for.Thanks for all your help. "
DC Anthony SHAW / Vulnerability / Specialist Crime
Police Officer / Specialist Crime / UK Police force
Don't Wait Any Longer. Start Forging Your Own Path Today!